Oatcakes have been a staple of the Scottish diet since at least Roman times and probably long before.
In the 14th century, Jean le Bel accompanied a French count to England and Scotland, and describes nuns making "little pancakes rather like communion wafers", and this is thought to describe the making of oatcakes. At this time, Scottish soldiers would carry a sack of oatmeal and a girdle (griddle) which they would place over a fire. The oats would be moistened and formed into a cake which was cooked on the girdle.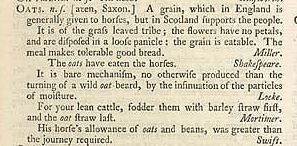 Samuel Johnson famously define oats as follows in his 1755 dictionary: "A grain, which in England is generally given to horses, but in Scotland supports the people." Lord Elibank was said by Sir Walter Scott to have retorted: "Yes, and where else will you see such horses and such men?"
The texture of today's oatcakes may vary from rough to fine depending on how the oats are ground and they are a fantastically flexible food, from breakfast to dinner.
Click here for some suggestions of recipes using oatcakes.