The current owner of McKenzie's is Gerry, whose father, Alexander (Alec), took over the existing bakery business on the Turriff premises in 1952.

The family lived in the flat above the bakery, moving to Turriff from Portknockie, with their worldly goods transported in a cattle float. At that time it was a traditional bakery business, with the young Gerry doing the early morning rounds before school delivering bread and butteries from a traditional baker's cart and earning the princely sum of 10 shillings (50p) for his week's work, Monday to Saturday. Gerry recalls that in those days there were 6 manufacturing bakers in Turriff - now there is just one.
Alec had brought a few secrets back from his time serving in the army during the second world war, where, a baker to trade, he had worked in the NAAFI. One in particular, a Vanilla Spritz recipe, would prove to be the original inspiration behind the setting up of McKenzie's Biscuits.
Meanwhile, Gerry had done well at school and gone on to university and become a physics teacher - only to give it all up to return to the family business, even though his father wasn't keen.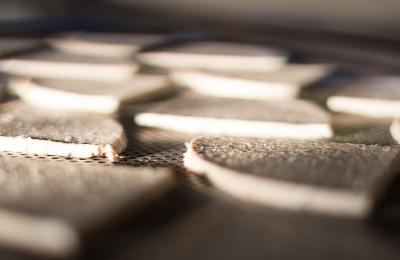 Looking at his father's collection of biscuit recipes, it was now that Gerry had the idea of creating McKenzie's Biscuits, and in 1982 they bought the building in Cuminestown, and set up the biscuit bakery. The building had previously been a bakery producing the famous Howe O'The Mearns oatcakes, and had been shut for 3 to 4 years. Still there, however, was the biscuit stamping machine.
And the rest is history... Gerry travelled around in his van selling and delivering oatcakes and biscuits in person to his customers across Aberdeenshire, gaining a reputation for tradition excellence, using recipes which come from a variety of sources, including his father, staff members or the result of great experimentation.
Today, Gerry still manages the business day in day out, even if he no longer lives in the flat above. Among his many claims to fame, he is also an avid collector of jokes. Click opposite to listen - but beware, if you're not Aberdeenshire born and bred, you might just have to listen twice!